IMPORT, CREATE & EDIT
Nero Standard 2018 Suite: Classic creations made particularly easy. Send your videos, photos, and music from almost any device to your PC, drag them to the Nero Video 2018 screen – and soon you will be right there in your home multimedia studio! In next to no time, you can be editing your videos with creative effects, adding transitions, inserting striking captions, and saving time with the help of countless templates. With the new 1-click-remover for black borders, you can make your movies fit for the widescreen TV in your living room. You can even export individual scenes from a long video in one go. As if this were not enough, easily create top-quality movies and slide shows as well as DVD-Videos™ and Blu-ray Discs™ from your holiday memories, and more much.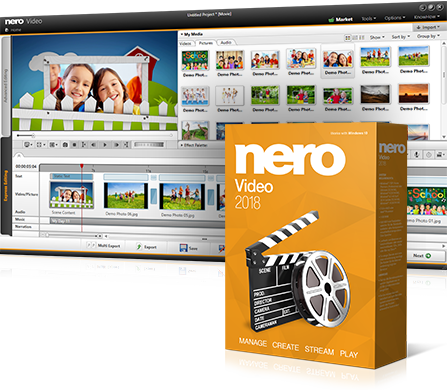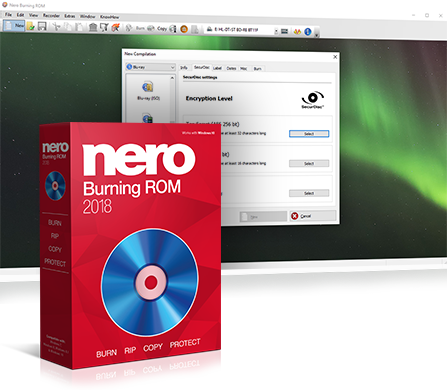 BURN, COPY & ARCHIVE
Nero Burning ROM 2018: Whether it's on CD, DVD, or Blu-ray Disc™, you can copy and burn your precious data with the reliable, industry-leading burning specialist thanks to Nero Standard 2018. This is made even easier with Nero QuickStart, which can now be activated using Drag & Drop via the Nero desktop icon, meaning that the most important tasks are completed in a flash. And with SecurDisc 4.0 – including 256-bit encryption, password protection, and disk optimization technology – you can be certain your files will last. Furthermore, burn high-quality audio CDs with automatic sound enhancement and album covers.
ORGANIZE, PLAY & STREAM
Nero MediaHome 2018: Great multimedia playback and organization. No more searching for the right file: With the new and improved media center, Nero MediaHome ensures that you can easily organize and play music, videos, photos, movies, and TV series, and integrate them into your projects. You can now also play your personal archive of movies and TV series, including movie titles and movie covers, and stream movies wirelessly to the TV in your living room. To do this, you can also use the free Nero StreamingPlayer App as a convenient remote control for your media archives on your PC, or play your movies, photos, and music directly via the app on your mobile device.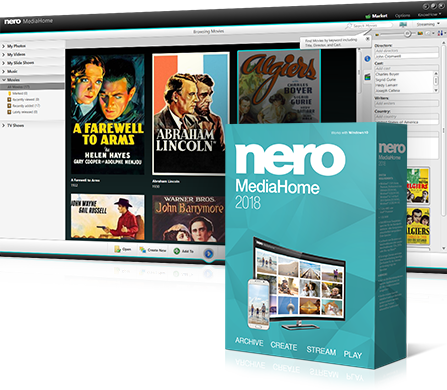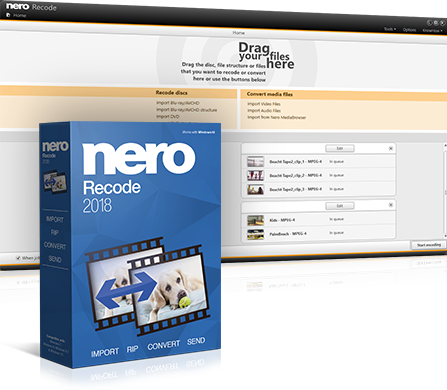 RIP & CONVERT
Nero Recode 2018: Bring together what belongs together: Import all formats, including even high quality HEVC (H.265), and convert them to almost any format you need. Rip video DVDs*, AVCHD*, and Blu-ray Discs™*, and simply reuse the files for new projects. With 1-click conversion, you can send audio CDs directly to your connected mobile device. In the process, Nero automatically ensures the easiest conversion mode with the best sound.
*Only non-copy protected sources.
4 programs in one Suite